Mrs. Elizabeth Lott, Librarian
Elizabeth Lott graduated from McKenzie High School in 1979. From there, she went to UTM and acquired her Bachelor's Degree in Home Economics - Early Childhood Education; she completed her Master's Degree in Child Development and received her Library Certification at Lambuth.

Ms. Lott has 29 years of working experience (1984-Present). Her other teaching jobs, besides being HHS librarian, have been in Knoxville as a kindergarten teacher, at McKenzie as a kindergarten and second grade teacher, and also one summer in Tiptonville prison Lake Co. Correctional Facility. She enjoys being the High School librarian (and part time counselor to a lot of students), as well as reading (obviously) and laughing, making scrapbooks and pictures, playing in the Bell Choir at the Methodist Church and teaching in Sunday school.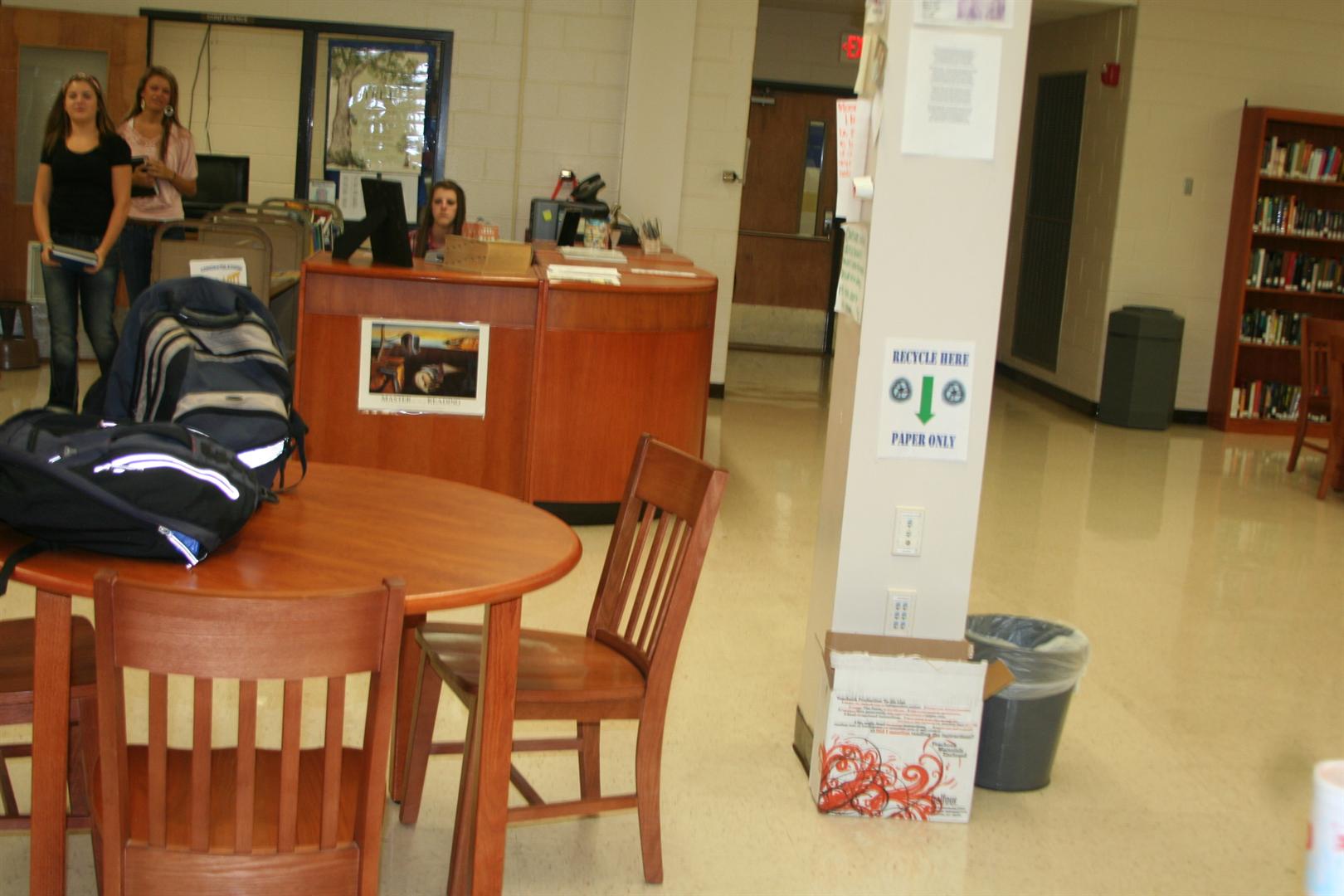 Ms. Lott is married with 2 children, Holly and Ben.
Ms. Lott has given us a website for us to find books inside the HHS library. You can search titles, authors, and subjects of books that any one would like to read. Click here to follow
Top 10 New Reads
In The Fault in Our Stars, John Green has created a soulful novel that tackles big subjects--life, death, love--with the perfect blend of levity and heart-swelling emotion. Hazel is sixteen, with terminal cancer, when she meets Augustus at her kids-with-cancer support group. The two are kindred spirits, sharing an irreverent sense of humor and immense charm, and watching them fall in love even as they face universal questions of the human condition--How will I be remembered? Does my life, and will my death, have meaning?--has a raw honesty that is deeply moving. --Seira Wilson

When Aristotle and Dante meet, in the summer of 1987, they are 15-year-olds existing in "the universe between boys and men." The two are opposites in most ways: Dante is sure of his place in the world, while Ari feels he may never know who he is or what he wants. But both are thoughtful about their feelings and interactions with others, and this title is primarily focused on the back-and-forth in their relationship over the course of a year. Sáenz (Sammy and Juliana in Hollywood, 2004) writes toward the end of the novel that "to be careful with people and words was a rare and beautiful thing." And that's exactly what Sáenz does—he treats his characters carefully, giving them space and time to find their place in the world, and to find each other. Grades 9-12. --Ann Kelley

Gr 10 Up-Astrid Jones is a high-school senior in a small, Pennsylvania town. She's a top student and loves philosophy. (She gives Socrates a first name-Frank.) Her favorite pastime is to lie on the picnic table she and her father built in the backyard and send her love to passengers in the airplanes as they pass overhead. The teen sends her love off to strangers, because she has no use for it at home. She has an agoraphobic, type-A mother who wears business suits and heels when she works from home. Her mother also has a texting relationship with Astrid's best friend. Her sister just wants to fit in with small-town life. The townspeople are small-minded and gossipy. Astrid's overwhelming need to send messages of love to anonymous passengers sometimes appears to touch those passengers, who are also leading lives of quiet desperation. And, sometimes, maybe they can send love to Astrid. King's thoughtful, sad, funny, and frank book is finally about paradox and will appeal to any mature teen resisting the pressure to conform or rebel; anyone who wants to define herself on her own terms; and anyone whose family life belies the 1950s sitcom myth.-Nina Sachs.

Gr 8 Up-Fourteen-year-old Sophie rescues Otto, a young chimp, while spending the summer at her mother's bonobo sanctuary in the Democratic Republic of Congo. When the president is assassinated and war breaks out, Sophie has a chance to return home to the United States but cannot bear to leave Otto. Their journey to safety takes them into the bonobo enclosure, but the real danger begins when they venture out and risk encountering rebel soldiers. Schrefer excels at imbuing the bonobos with individual personalities and endearing quirks. The bond between Sophie and Otto is so expertly depicted that it almost seems like a parent/child relationship, and readers will readily relate to the anguish the girl feels as she debates leaving her pet behind. The novel tackles tough ethical dilemmas without offering easy answers and delves into racial politics (Sophie's mixed racial heritage influences how others treat her), giving the book a nuanced tone. Schrefer portrays painful scenes in unflinching detail, and his powerful use of language drives the story forward. However, Sophie often seems preternaturally skilled for a teenager who has spent limited time in the Congo. Several moments stretch plausibility, such as when she rescues Otto from a group of soldiers or when she becomes leader of the bonobo tribe. Additionally, because Sophie is recounting the story as an adult looking back, her voice is often far more mature and polished than most adolescent protagonists. Yet despite the flaws, this is a poignant and moving story.-Mahnaz Dar.

Gr 9 Up-Against a vivid 1950s New Orleans backdrop, 17-year-old Josie Moraine is caught between the harsh reality of her negligent, prostitute mother's lifestyle and her desire to escape to a new life. Josie is smart, resourceful, and determined. Her support group includes Willie, the shrewd brothel madam who recognizes Josie's potential; Cokie, Willie's kind and devoted driver; Patrick, who runs the bookshop where Josie works; Charlotte, an upscale acquaintance who encourages Josie to join her at Smith College; and Jesse, the handsome motorcyclist neighbor who has eyes only for Josie. When a mysterious death leads police to Josie's mother and abusive boyfriend, the teen is drawn into the investigation and into an underworld of threats, violence, and retribution. After her mother skips town, Josie is targeted to repay her debt to a powerful criminal boss. As she tries to handle mounting adversity on her own, she struggles with fear, desperation, and her conscience. Stealing from Willie or hooking up with a wealthy john seem her only choices for survival. Overwhelmed, she reveals her predicament to Willie, who saves her in a final act of generosity. Josie's narrative features a Dickensian array of characters; the mystique, ambience, and language of the French Quarter; a suspenseful, action-packed story; and a coming-of-age realization that personal decisions ultimately shape one's future. With dramatic and contextual flair, Sepetys introduces teens to another memorable heroine.-Gerry Larson.

A pair of siblings escapes—along with a Siberian Husky—the strictures of their 1950s industrial Ohio town on the adventure of a lifetime.

Talented high-school senior Donna Lane yearns to leave her Midwestern home in pursuit of a career in design, but she feels obligated to stay and care for her helpless father and her younger brother, Will. In fragile health and obsessed with the television show Sergeant Striker and the Alaskan Wild, Will's dearest companion is a mute Siberian Husky named Trusty. The arrival of two outsiders inspires Donna to consider her dreams anew. Then Will falls sick, and Donna packs up their yellow convertible—with Will, Trusty, and a road atlas—and sets off for the Alaskan Territory. A portrait of a singular American moment, My One Square Inch of Alaska is a moving tale of exploration and love—human and canine—that dares to believe the impossible.

A teen at boarding school grapples with life, love, and rugby in a heartbreakingly funny novel.

Ryan Dean West is a fourteen-year-old junior at a boarding school for rich kids. He's living in Opportunity Hall, the dorm for troublemakers, and rooming with the biggest bully on the rugby team. And he's madly in love with his best friend Annie, who thinks of him as a little boy.

With the help of his sense of humor, rugby buddies, and his penchant for doodling comics, Ryan Dean manages to survive life's complications and even find some happiness along the way. But when the unthinkable happens, he has to figure out how to hold on to what's important, even when it feels like everything has fallen apart.

Filled with hand-drawn infographics and illustrations and told in a pitch-perfect voice, this realistic depiction of a teen's experience strikes an exceptional balance of hilarious and heartbreaking.

Before. Miles "Pudge" Halter is done with his safe life at home. His whole life has been one big non-event, and his obsession with famous last words has only made him crave "the Great Perhaps" even more (Francois Rabelais, poet). He heads off to the sometimes crazy and anything-but-boring world of Culver Creek Boarding School, and his life becomes the opposite of safe. Because down the hall is Alaska Young. She is an event unto herself. She pulls Pudge into her world, launches him into the Great Perhaps, and steals his heart. Then. . . .

After. Nothing is ever the same.

Veronica Roth's entire Divergent trilogy is available together for the first time, with a bonus booklet about the series. Perfect for gift givers, collectors, and fans new to the series, the complete collection includes the full text of Divergent, Insurgent, and Allegiant, plus "The World of Veronica Roth's Divergent Series," a forty-eight-page booklet including faction manifestos, a faction quiz and results, a Q&A with Veronica Roth, playlists, discussion questions, series inspirations, and much more!

Divergent: One choice can transform you. Veronica Roth's #1 New York Times bestselling debut is a gripping dystopian tale of electrifying choices, powerful consequences, unexpected romance, and a deeply flawed "perfect society."

Insurgent: One choice can destroy you. Veronica Roth's second #1 New York Times bestseller continues the dystopian thrill ride. As war surges in the factions all around her, Tris attempts to save those she loves—and herself—while grappling with haunting questions of grief and forgiveness, identity and loyalty, politics and love.

Allegiant: The explosive conclusion to Veronica Roth's #1 New York Times bestselling Divergent trilogy reveals the secrets of the dystopian world that has captivated millions of readers in Divergent and Insurgent.

An 11-year-old boy living in Memphis in 1959 throws the meanest fastball in town, but talking is a whole different ball game. He can barely say a word without stuttering, not even his own name. So when he takes over his best friend's paper route for the month of July, he knows he'll be forced to communicate with the different customers.

The paper route poses challenges, but it's a run-in with the neighborhood junkman, a bully and thief, that stirs up real trouble--and puts the boy's life, as well as that of his family's devoted housekeeper, in danger.

"An unforgettable boy and his unforgettable story. I loved it."--Rob Buyea, author of Because of Mr. Terupt and Mr. Terupt Falls Again

"Paperboy offers a penetrating look at both the mystery and the daily frustrations of stuttering. People of all ages will appreciate this positive and universal story as I did, but it will be particularly meaningful to anyone who has ever struggled with stuttering."--Jane Fraser, president of The Stuttering Foundation of America